Описание
If you're looking to expand your SEO knowledge, though, you may have come across Brain Dean's course, SEO That Works. So, what is SEO That Works (or STW)? Let's find out in this review of SEO That Works.
What Is SEO That Works?
SEO That Works is an SEO course created by Brian Dean, the owner of backlinko.com. So far, there have been three revisions of the SEO course. SEO That Works offers a revolution of the world of SEO. Because so many people that believe in SEO know the importance of SEO (Search Engine Optimization) to their web content, they pay lots of money to hire writers to give them premium search engine optimized articles. Still, most of those articles never even rank on the first, second or third page of Google.
So how do you get the best SEO results for your pages without having to wait around months for it to rank? Brian teaches effective content marketing. Brian's strategy is based around building very strong content called The Power Page and marketing that power page.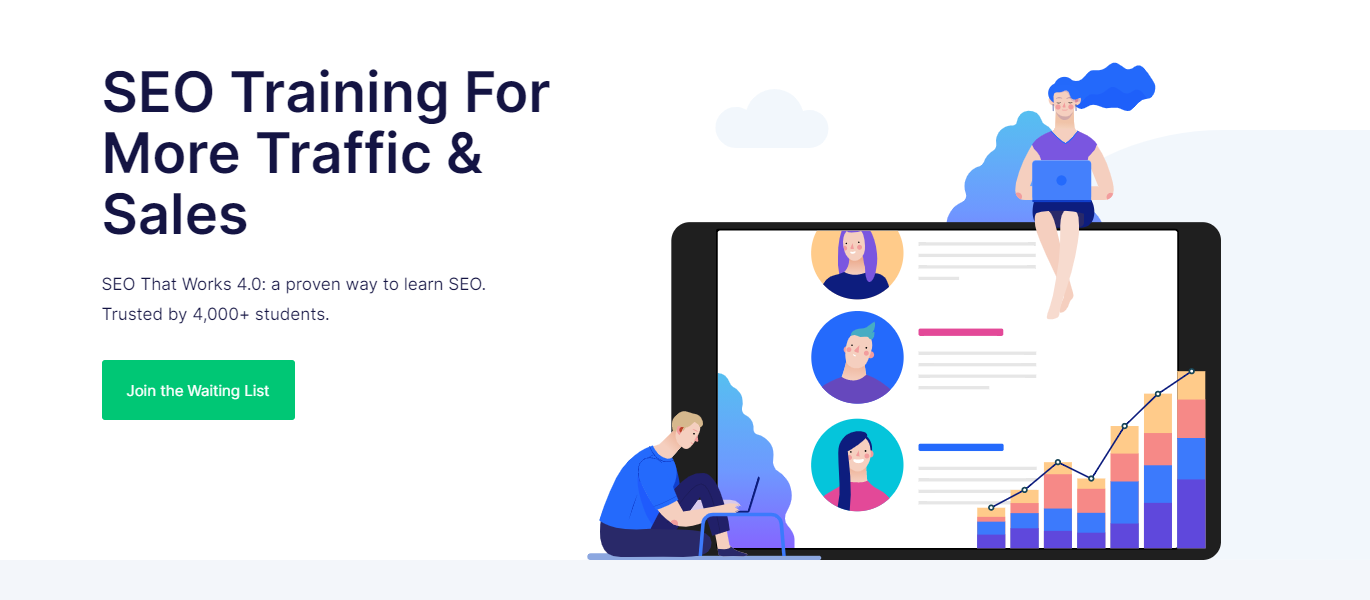 Who Is Brian Dean?
Brian Dean is an SEO expert and he ranks on Google for some of the most competitive keywords on the web. Forbes recently profiled him and called him a "recognized SEO expert."
For example, in the niche of SEO, Brain Dean ranks on the first page of Google ever since I could remember, for keywords like "keyword research", "on page SEO", etc. He outranks hundreds of SEO companies. He also runs an affiliate site that earns over $10k/month in revenue after 4 months! Brian's graduates are SEO experts and they have grown their businesses and others amazingly higher in the ranks.
Aside from his coaching business, Brian Dean runs an agency that helps businesses rank even in so-called boring niches with his technique. In his SEO That Works course, he teaches everything he uses. He began by displaying what is wrong with the conventional notion of SEO and backlinks and how his new method can help.
What's Included In SEO That Works?
SEO That Works has 5 modules with several bonus lessons that are solely based around creating effective power pages that will attract other people to link to and share it. Consequently, that makes the page rank high in the search engines.
All the five modules in Brian's training amount to three main secrets
Brian presented the tutorial in a step-by-step video series. Each video is no more than 10 minutes long. The training also comes with PDF transcriptions of the videos just in case you cannot understand. There are also mp3 versions available for listening on the go.
Who Is SEO That Works Best For?
SEO That Works is PERFECT for anyone at any level who wants to learn SEO. It is an excellent resource for:
Digital marketing agencies that want outstanding results
Ecommerce site owners
SEO analysts
Affiliate marketers
Freelance writers, graphic designers or web designers
Website owners spend so much money trying to analyze their website's SEO. However, because they use the "normal" SEO tactics that everyone else uses, they may not get results or remain stuck where everyone else is. This course will help you open a new approach to SEO.

However, we would not recommend this course beginners and people who cannot possibly write or get content. The course has a degree of difficulty that may be too challenging for SEO beginners.
The Results Were, Well… Pretty Insane
Mike Bonadio
Ten Thirty Digital
"One of my clients is in a very boring niche and thus hard to promote. Even so, I was able to land some extremely high quality & relevant links to my client's site including a link on a DA 71 EDU from a well known University.
The best part is that the links I got are 100% "earned" and put there by the site owners themselves."
Matthew Rupp
Saw Web Marketing
"My biggest challenge was getting overwhelmed by the noise of SO MANY different 'authorities' all saying which was way the best. You cut through all the noise. I have had several clients that have seen noticeable increases in traffic and rankings."
Maat Van Uitert
The Frugal Chicken
"With the backlinking techniques Brian teaches, my blog posts have consistently moved from page 3 or 4 in Google to page 1 for keywords I was having difficulty ranking for. I was able to repeat the process for not just one, but many blog posts, bringing me a ton of high-quality backlinks."
Rob Misheloff
Smarter Finance USA
"STW totally changed my entire strategy and outlook. I went from posting daily to posting once or twice a month, and as a result of the change in strategy my organic traffic has tripled since September."
Don Paz
Legendary Home Services
"After completing the program and putting Brian's concepts into action, my site's targeted keywords are not only on the first page, but spot one.
I went from receiving an average of five new leads a week to four new leads a day. My site's growth has been incredible and I owe it to Brian Dean."
Introducing SEO That
Works 4.0
Since that initial launch of SEO That Works, I've made dozens of updates to the program.
And I recently overhauled the entire course from start-to-finish.
For the first time ever I'm releasing SEO That Works 4.0, my new SEO course that shows you exactly how to get higher rankings and more traffic, step-by-step.
The best part? The strategies in the course are all working right now.
Here's exactly what's inside of the new SEO That Works 4.0 training program.
In-Depth SEO Training
No fluff. No theory. Just 100% actionable material to help you get first page Google rankings in record time.
Always Up-To-Date
You never have to worry about outdated stuff. Our material is always current and up-to-date.
All About Results
If you want a high-level approach and theory, this isn't for you. SEO That Works is engineered to deliver RESULTS.
Works In Any Industry
Our material has been tested by 4,000+ students in 51 countries, spanning 43+ different industries (including ecommerce and websites in "boring" industries). And it works.